Hi, girls,
3-7 November
Matrioshki Scrap Designs
are celebrating Digital Scrapbooking Day!
Except today
DSD Blog Hop
we are having for you from tomorrow:
- New designer
- Great discounts in the shop
- Collab as a gift for purchase
- Various games in the forum
- RAKs from designers here and at Happy place
So please visit Matrioshki Storeand Matrioshki Scrap Designs forumtomorrow for new details!!!
So for today DSD Blog Hop we are having for you a great gift -
a free mini-kit from Matrioshki November Mountain View Collab
in which I participate and that will be on sale from November 3rd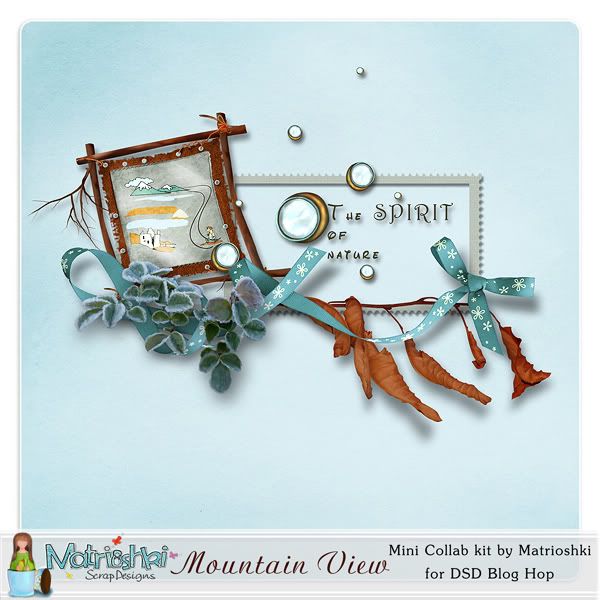 DOWNLOAD - my part №3 hereThe next part you can get on KandI Designs BlogAnd a surprise.... you can not only download this free mini-kit but can also get a 5$ prize!
* Make sure you collect all 7 parts of the collab
* Create a layout using all the elements of the mini-kit (plus you can use full collab Mountain View or any other 100% Matrioshki products)
* Upload it to
Matrioshki Gallery
to be entered in a drawing to win a $5 gift certificate!
(details in the forum!)
Make sure you visit all the blogs to collect all the goodies:
Part 1
Matrioshki Blog
Part 2
Camomille Designs
Part 3
Komarik Designs
Part 4
KandI Designs
Part 5
NatashaNaSt Designs
Part 6
Tiramisu Designs
Part 7
Astraya Designs
Good luck! Let's start the party!!!
Hugs.
See you later or tomorrow ;)
Elena.